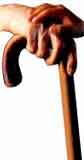 Agewell Foundation, India is a not-for-pofit NGO which has been working for the welfare and empowerment of older persons since 1999. Agewell has set up a two-tier network of over 7500 primary and 80000 secondary volunteers spread across 640 districts of India and interacts with over 25000 older persons on daily basis through its volunteers' network.
Recognizing the work being done by Agewell Foundation ECOSOC has granted Special Consultative Status to Agewell Foundation at United Nations since 2011. It is associated with Department of Public Information, United Nations(UN-DPI). Agewell has also been member of Working Groups and Steering Committees on Social Sector for Xth, XIth and now the XIIth Five-Year-Plan of Planning Commission of India since 2002.


Happy Ageing
Old age is an unavoidable part of our life cycle and should be lived gracefully rather than grudgingly. In today's fast paced world we only start noticing signs of old age much after the gradual process is well underway…

Agewell Foundation is now Empanelled with National CSR Hub by Tata Institute of Social Science.

The purpose of life is a life of purpose.So start donating now for the special cause.
You will receive a letter of Thanks, a receipt for your contribution, a certificate under section 80(g) of Income Tax Act and (if the contribution is of Rs 1000/- or more) details including photograph of the beneficiary who would be helped by your contributed amount.
Agewell Interaction Centre for older persons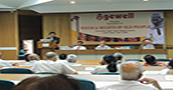 The centre is a platform that initiates a better understanding of the problems of ageing from a social perspective and provides a platform for the aged as well as those concerned to come together to share and care…
Agewell Monitoring & Evaluation Centre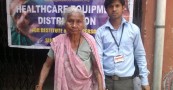 Agewell Foundation undertakes innovative research studies, supervision and evaluation for routine social projects. The monitoring & evaluation activities cover all sectors linking old people…
Agewell Training program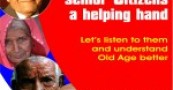 Agewell Foundation has undertaken a Sensitization and Training program for various stakeholders like Delhi Police personnel about needs & rights of older people …  Read more..
Free Healthcare Campaigns for Destitute Elderly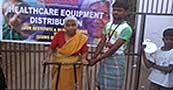 An initiative to identify basic healthcare requirements of destitute elderly living in the slums and provide them with medical/healthcare assistance…Read More
Agewell Share the Warmth Campaign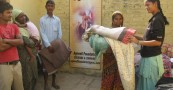 Share the Warmth is all about sharing and caring for the elderly and destitute in the bone chilling winters of Delhi-NCR…More info…
Agewell Foundation at Satyamev Jayate
Agewell Projects Supported by Corporates