Agewell Employment Exchange for Older Persons
Old age notwithstanding there are goals to achieve. Agewell strongly subscribes to that view and sees a tremendous opportunity in gainful re-employment. Many elders desire it because they would rather not idle away their old age. Some aspire to it because they believe they are still entirely productive citizens, for others it is a means of survival. They may have sons not yet settled, daughter not yet married, school or college going children who still have to be supported.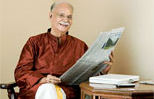 Indeed there are many jobs that could well use their skills and expertise, and of course their years of experience. Agewell attempts to bring the opportunity seekers and providers together. Agewell Foundation facilitates interaction at no cost.
An Intergenerational Initiative, as a gainful engagement for retired old persons

Community involvement and to pursue opportunities for complete development of their potential Launched Eklavya Scheme (Home Tutors & Easy Accounts schemes).
Over 45000 retired and old people have benefitted under this program.
Over 5 lac retired people are working as tutors in their own locality/ nearby areas.
Download Agewell Employment Exchange Registration Form
How to get gainful engagement / self employment in old age?
Small business establishments
Retired persons can set up small business establishments in nearby areas post retirement to keep themselves engaged, gainfully, physically as well as mentally. Such establishments may include a general store, Tea shop, Stationery shop, etc. as per their capacity, convenience and requirement of the area.
Social service
People interested in social service and volunteering may seek opportunities to associate with local NGOs, social, religious, cultural, political organizations and keep themselves engaged and active while working for the cause.
Specialized Consultation
Retired persons, with specialization in their fields can work as consultants post retirement. They may find such assignments in the market or set up their own consultancy service.
Counseling of distressed persons
Retired people have a lot of life experience, knowledge and wisdom. They can work as a counselor with any NGOs, hospitals, and other institutions. Or they may register themselves with concerned bodies as freelance counselors on paid basis.
Tuition to children
This is the most suitable post retirement activity for older persons. Now-a-days, the education of most of the children depends on tuition. Retired people can easily find children who are in need of senior tutors. Retired people can take classes at their home or provide home tuition to school children in nearby localities as per their convenience.
Handling Accounts / Administration
Older persons with accounts / admin backgrounds can easily find suitable jobs for them post retirement. Small Business establishments / traders prefer to hire elderly Accounts/Administrative people as they are more reliable and cost effective as well.
Caretakers of community / individual properties
People retired from lower service classes or with lower education backgrounds, can also find gainful engagement opportunities. They can work as Caretakers or supervisors of community properties or individual house properties. In today's society, dominated by nuclear families, people also prefer to appoint elderly, particularly, elderly women as caretaker of their younger children.